Authentic Chöd Damaru
& Sacred Implements
Made according to the ancient tradition
Using authentic Chod Damaru is a tremendous aid to the depth, power and benefit of your Chod practice, both for yourself, for healing others, and for healing the environment. We pioneered the return to these authentic Vajrayana implements over 10 years ago—Made by our Bhutanese fabricator in his small workshop according to ancient traditional methods and artistic integrity. With trees from Bhutan (one per  drum) and untreated Bhutanese goat skins, their powerful energetic and spiritual effects are immediately noticeable. Supporting their creation also assures that the science of these tantric Chod instruments of Tibet, Nepal and Bhutan will not be lost.
All items are NOT IN STOCK, but CUSTOM FABRICATED ON REQUEST. This includes SengDeng Chod Damaru from 8" to 10" in diameter. Please contact us with your request and for current prices, as they  fluctuate. Occasionally we receive special or extra items; these will be listed here on a monthly basis.
Chod Damaru
We pioneered the return to authentic damaru in the West.
The most reliable source of properly made Chod damaru
Real damaru are a direct channel to dakini, yidam & protector.
Wood Kangling
Traditional wood (shing) sengdeng Chod kangling.
Excellent tone and very easy to create a vivid sound
Safe for travel, airports, public graveyards.
Skullcup Damaru
Made according to correct vajrayana traditions.
Two skulls: male & female with their yidam mantras in gold
Brocade or leather strap, chopen, and high quality stiff case
Hand Damaru
Traditional Hand Damaru with internal mantras and cloud skins
Sengdeng wood or Sandalwood when available
Also known as ChangTe-u, or TangTrik
108-Skull Mala
Fabricated hand from discs of 108-different human skulls
For wrathful yidam practice: Dorje Phurba, Mahakala, etc.
Disk thickness of 13 to 14 mm produces 12 or 13 inch mala.
Bone Kangling
Brahmin bone source, both male and female human kangling available (Not from Chinese sources or Moslem graves
Stiff brocade cases. Treated with beeswax as a moisture barrier.
TangTong Gylapo Phurba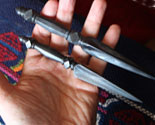 Rare phurbas made from TangTong Gyalpos's iron links
Available in small, medium or large size with copper case.
Contact us directly for details, availability and price.
Kapala: Sacred Skullcup
From Bhutan, Brahmin or Tamang Buddhists of Nepal.
Bare bone, can be coated with beeswax, etc.
Availability is limited and variable. Please enquire!
Testimonials
"The damaru was delivered yesterday, and I just wanted to let you know that it is everything, and much more, that I hoped it would be. It is an absolutely joy to hold and to play. I have never used another Chod damaru with the richness and complexity of tones that this one possesses. I knew the moment I picked it up that it was very special. Apart from its beautiful physical appearance and how good it feels to hold, when it sounds I sense a strong resonance with the entire mandala of deities that I strive to invoke every day in practice. Nothing could be better! So in short, thank you. And thanks to the artisans who worked with so much obvious care and patience to produce it."